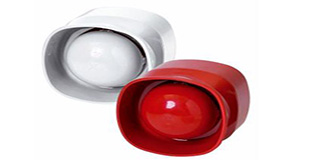 Description:
The device allows to select 32 types of alarm and evacuation tones (including DIN tone 33404, part 3) for different requirements. You can adjust the sound pressure by five levels
according to the operational environment. Depending on the tone type and volume set, the sound pressure varies between 65 dB(A) and 101dB(A). Sounders of the same LSN loop and with the same tone type provide immediate synchronization. The device maintains LSN loop functions in the event of wire interruption or short-circuit thanks to two integrated isolators. Change of the device settings can be do
The LSN Strobe can be used with the FNM-420-A-BS / FNM-420U-A-BS Base Sounders or the MSS 400 / MSS 401 LSN Detector Base Sounders providing a combination of visual and acoustic signaling. Mounted on the MS 400 Detector Base, the FNS-420-R can be used as a strobe without acoustic signaling. Both applications can easily be integrated into an existing Local SecurityNetwork (LSN).
Volume of up to 101.3dB(A)
Maximum current consumption of less than 4.05mA
Up to 100 sounders per LSN loop
Immediate synchronization
32 different tone types can be selected (incl. DIN tone)
Certifications and approvals
Region – Certification
Germany: VdS G 207145 FNS-420-R
Europe: CE FNS-420-R LSN
CPD 0786-CPD-20531 FNS-420-R
Ukraine: MOE UA1.016.0070272-11 FNS-420-R