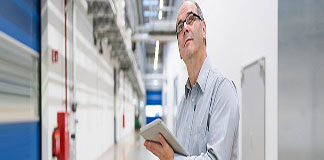 The future of fire systems
When you're managing different fire systems across many locations, technology can be your greatest asset. Bosch can help you to provide customers with seamless remote support and enhanced performance, while cutting down on your maintenance and administration costs. Bosch Remote Services helps to monitor, maintain and service fire detection equipment, securely and efficiently.
Remote Connect
A remote internet connection that enhances your operations:
Secure remote connection for configuration, service and troubleshooting
Pre-configured for easy setup within 30 minutes
Optimized for seamless integration into RPS (Remote Programming Software)
Remote Maintenance
Maintain your systems more efficiently with the integrated tool that monitors the conditions of installed devices:
Handy access to live fire system data (e.g. pollution values, working hours) to prepare maintenance and service calls
Download of automatically generated maintenance reports and online storage of service history
Integrated walk test feature to stay connected to the panel while testing LSN (Local Security Network) loop devices
Remote Alert
Immediate and customized notifications, sent to you and your customers for additional peace of mind and high-performance service:
Faults and alarms are automatically transmitted to mobile devices via SMS and email
Creation of unlimited internal and external subscribers
Event-based role management for every connected system to define who receives what
Benefits
Performance – High-speed remote troubleshooting increases service levels and customer satisfaction
Savings – Expert can support technicians in the field remotely, saving their valuable time, increasing efficiency and reducing overall costs
Preparation – Analyze system status, access replacement efforts and plan maintenance activities before reaching the customer site
Information – Always stay up-to-date with automated notifications in case of events
Customization – Powerful user management provides you the flexibility to define individual roles, access rights and responsibilities as you need
Quality – Add your customers as subscribers to notifications to pro-actively inform them of the status of their installed systems
Get up and running in three simple steps!
Plug your internet connection and fire panel into the gateway.
Register on the Bosch Remote Portal and enter the Remote ID you receive into the fire panel to complete setup.
You are ready to continue configuring, servicing or troubleshooting remotely after minimal on-site installation!