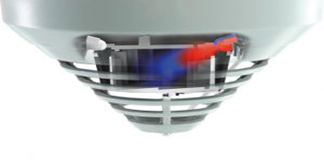 Get to know the AVENAR 4000 detector from Bosch Security Systems. The eSmog feature provides constant monitoring of environmental conditions. This combines unsurpassed reliability with an outstanding detection performance. This is why Bosch offers a wide variety of automatic detectors for different sensitivities and fire types. The AVENAR 4000 detectors deliver information that, as well as reporting a fire, can also give clear, simple details regarding disturbance values caused by neon lamps, for example. It can significantly reduce the expenditure for the installation or maintenance of a system.
Innovation
The detectors provide robustness against electromagnetic pollution and moreover supplies the installer with information about critical environmental disturbances at the installation site. eSmog allows the system integrator to identify and to resolve critical conditions even more quickly, hence saving time and money.
In addition, during operation and maintenance, stability and detection performance are further enhanced by constantly measuring the electromagnetic exposure of each detector and calculating real-time values and long term averages. These are used to predict the exceeding of threshold values even before possible false alarms can occur. Operators can see the current EMC values and averages on the user interface of the fire panel. This will noticeably reduce installation and maintenance effort.
Features
eSmog to identify and resolve critical conditions
Constant data collection for real-time values and long term averages
Intelligent Signal Processing and Dual Ray Technology
Early detection in even the most challenging environments
Robustness against electromagnetic pollution without accessories
Electric smog resistance
Benefits

This family of fire detectors maximizes unsurpassed reliability and combines it with an outstanding detection performance.
This combination of precision and dependability results in fewer false alarms.
The detector series offers early detection even in most challenging environments including night clubs, parking garages and computer rooms.
It's robustnest against electromagnetic pollution and its feature called "eSmog" monitors environmental disturbances and allows system integrators to identify and to resolve critical conditions even quicker.
Enjoy best-in-class protection and at same time safe time and money.
Equipped with Intelligent Signal Processing and Dual Ray Technology the detectors precisely distinguish between visible and invisible disturbance values and accurately detect even the smallest smoke particles.
Application

The AVENAR 4000 detectors support you to retain a safe, future proof investment for every kind of venue.
When it comes to total-cost-of ownership we will support you to realise a cost-efficient solution.
The main applications are:
Retail, banking, transportation, commercial buildings, governmental buildings, airports, train and bus stations, metros, churches, hospitals, universities, entertainment & conferencing, healthcare, hotels and hostels, homes for the elderly, theatres, museums.