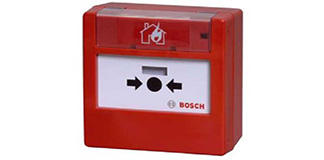 Bosch single action call point. Alarm triggering; Protection against injury through foil-labelled glass pane; Resettable; LED display for triggered alarm or inspection evaluation; LSNi; Indoor; Surface Mount; Red.
Adjustment  of   the   Manual   Call   Point   after   alarm Triggering, Automatic or manual detector addressing via rotary switch possible.
Indicator LED for alarm or for inspection evaluation, Call point query routines with evaluation and multiple transmissions.
Individual call point identification
UL/VDS Certification.