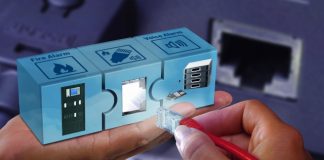 Smart Safety Link is the most reliable and secure way to combine Fire Detection and Voice Alarm. Each system meets the highest standards for quality, safety and functionality and offers exceptional flexibility and options for expandability.
The result is a future-proof installation supported by a world leader in fire detection and voice alarm.
Smart Safety Link increases flexibility & usability. Each fire panel has now the ability to be interfaced with a PAVIRO, Praesideo, or Plena VAS. Mixed combinations are also allowed. E.g.: Panel 1 interfaced with PAVIRO, Panel 2 with Praesideo.
Interfaced Fire Detection and Voice Alarm

Having the right building protection system gives everyone peace of mind – from property owners and security personnel to employees and visitors. When safety is at stake, the system has to respond immediately with accurate, reliable performance and with clear messages that keep everyone calm, no matter what. Bosch takes an interfaced approach to building protection, offering a combination of proven systems that delivers the ultimate in performance. Beginning with reliable fire detection and continuing through advanced voice alarm, Bosch delivers a safe, future-proof investment for every kind of venue
Features

Wide range of products from one supplier
Supports projects of all types and sizes
Outstanding operational security
Intuitive handling
Best in class fire detection performance
Cristal clear voice messages
Multi stage evacuation
Reliable and secure interface between fire detection and voice alarm systems
Benefits

Operational Security: monitored connection with acknowledge activations via two way communication
Scalability: 1 cable no matter how many messages and zones
Future proof: only software changes results in fast extensions or adaptations of the system
Cost saving: easy and error free wiring which results in a limited installation time
Usability: the Smart Safety Link is now also applicable in big size projects where multiple Praesideo Network Controllers (PRS-NCO3) are required
Flexibility: Alarm triggers are distributed and handled by the fire panel network. No need for additional GPIO (General Purpose In- & Outputs) interfaces between Voice Alarm Network Controllers
Flexible for every project
Bosch's interfaced fire detection and voice evacuation solutions can be tailored to any size of business or institution from retail shops, department stores or supermarkets to hotels and offices as well as airports, universities or shopping malls can be secured by Bosch. The system is designed for expandability, and all the devices and peripherals work seamlessly together. Smart Safety Link easily supports multi stage evacuation which ensures a highly effective approach to emergency situations.
In small applications, Plena Voice Alarm System can be connected the Modular Fire Panel 1200 Series via a RS-232 interface.
In mid- and big-sized projects, PAVIRO and Praesideo interface with the Modular Fire Panel 1200 or 5000 Series by using the Smart Safety Link over IP Ethernet.
The Modular Fire Panels and Praesideo can additionally be connected to a superior Building Management System via OPC or by using an SDK (Software Development Kit).